Helm! I need somebody,
Helm! Not just anybody,
Helm! You know I need someone...Heeeellllmmmm!
I just love that guy. So awesome to see Helmer score (finally!) after all his hard work and 150% effort. And to have the goal be the finishing touch on a game that Anaheim had no business being in was just icing on the cake. What an awesome way to end the game. Huge win. A 3-2 lead and a chance to close out the series and move on to the Conference Finals on Tuesday. I'm lovin' it.
I'm psyched, mostly because I was a little worried that the typical Wings-Ducks playoff crap would happen where Detroit outplays them but can't finish and ends up tied and losing in overtime. I don't like those.
But this wasn't one of those games.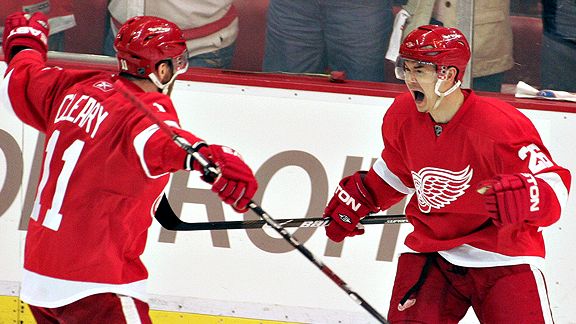 Helm, Hudler and the Wings weren't going to let that happen. This team is just too good, too full of talent. They allowed the Ducks to hang around a bit in the second and third, but as whole, this game was all Detroit. They played exactly how they have to play to win this series.
The line changes were just as good as game four, and I hope they stay the same for game six. That Helm, Hudler and Cleary line is just too good to pass up. As is the unstoppable Franzen, Hossa and Filppula line and the always amazing line of Dats, Z and Homer. The addition of Justin Abdelkader at Kopecky's expense worked out nicely too; I like that ex-Spartan. Amazing how quick my loyalty switches with a simple fashion change. Red looks better on him anyway.
I'm sorry to hear about
Kopecky
, but I don't really think the team will miss him. Abbadabbadoo and Leino are both better players, both guys I'd rather see on the ice anyway. I think Leino will make an appearance sometime in these playoffs...probably in some sort of rotation with Abbadabba. Sounds awesome to me. Now we just need Raffy back and the pieces will be set. I say sit him for game six; we can finish the Duckies without him, but we'll need him for round three. Give him another few days of rest to get healthy.
Game six is Tuesday. I'm very glad the game doesn't start until 10pm because I'll be gone for most of the night at our annual staff dinner and I kinda want to watch the game. I'll be back with a possible preview and definite recap then.
Last couple weekend notes: the Killers are amazing in concert and casino poker sucks. I already knew the Killers were good from when I saw them last year, but they were just as good last night at the Mohegan Sun Casino Arena. Awesome songs, awesome time. Our time before the concert was not so awesome. The casino's version of Texas Hold 'Em was dumb and expensive; I lost $15 bucks by playing one hand (6-7 unsuited) because it costs five bucks to get cards and 10 more to see the flop. And that was the cheapest table they had! Ridiculous. There's too much smoke there too...not a big fan of holding my breath, having my eyes burn and throat dry up for an hour. I don't know how people stand it in there. Can cigarettes be globally eliminated? I think that'd be pretty good for everyone.
Last but not least...Happy Mother's Day! Love ya Mom.