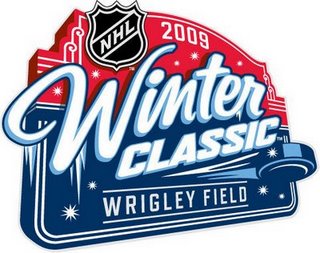 Traveling around Christmas and New Year's Day are problematic. I spent four full days trying to get to Portland, OR from Manchester, NH from December 20-23 and now, on New Year's Eve, I'm sitting in a Las Vegas airport hoping to get home in time for...midnight to celebrate the New Year with friends and family? Nope; that one's not possible. I want to be home for the Winter Classic.
It's the best team known to man, the Detroit Red Wings, versus their resurgent little rivals in the Central: the Chicago Blackhawks. Hmm....on any other day this might just end in a 4-0 blowout and the 'Hawks would be sent home with the spanking they deserve (say...like maybe yesterday?). But this game is at Wrigley Field. This game is outdoors. This game is on national television. This game has been hyped up and talked about by Blackhawks fans and Chicagoans for months. "Chicago hockey is back!" and "Kane and Toews are leading the best team in the NHL!" are only some of the false utterances I have heard regarding the subject. Has everyone forgotten that the defending champion Detroit Red Wings are also playing in this game? That they have better skill players, better defensemen, and a better coach than Chicago? That the Wings have four Stanley Cups in the past 11 years while Chicago hasn't managed even
one
in almost 50 years?
Fine, I get it. The Blackhawks' return to above-mediocrity is a feel-good story. They haven't made the playoffs in six years but they will this season. Awesome. Good for Chicago and the Original Six. But don't leave out the Champs. That's all I'm sayin'.
As for my thoughts on how the actual game will play out...I do think it will be closer than the game last night, where Detroit steamrolled 'em. I'll say it right now: I won't be surprised if the Blackhawks win. I just won't. Now, don't get that confused with "I won't be pissed as hell if the Blackhawks win" because I most certainly will be. But I won't be surprised. Nope. Much to my chagrin, the 'Hawks are a good team and it's always hard to beat a team two consecutive times. Let alone when the second game is in front of a full Wrigley Field of Red-Wings-haters (thanks Gary Bettman for selling 90% of the tickets to Chicago fans, ass). But I'll go ahead and predict something like a 4-3 win for the Wings anyway, since I'm a homer. It'll come down to the third period though, I'm almost sure of that.
I'm going to leave now, since sitting against a pole on the floor of Gate C12 is getting rather uncomfortable and I'm just
so
excited to sit on a bench ten feet away for another hour before my plane finally leaves. It's scheduled to land in Manchester at 4am and that would put me home by 6am, which is fine with me (despite that meaning that I've undergone another full 24 hours of travel since I got up at 6am this morning) as long as I'm in front of my HD TV in the basement for the Winter Classic at 1pm tomorrow. If I don't make it home in time, check the news. You might see my picture being plastered around as the main suspect for an insane felonious crime spree that will surely happen if I miss this game.
Until 2009....Happy New Year Everybody! And
GO WINGS!