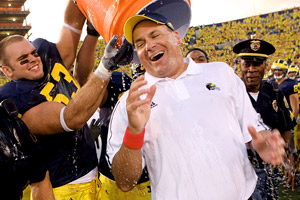 Well, would ya look at that. Rich Rodriguez gets doused with the bucket of Gatorade and Michigan pulled off the impossible comeback against a very talented Wisconsin team, winning in historic fashion 27-25. Season salvaged.
The 500th game at Michigan Stadium was a tale of two halves with what seemed to be two different sets of Michigan teams. If I didn't know any better, I would have guessed that before the game, the coaches told the Wolverines that Crisco was a great substitute for stick-em and told Steven Threet that the secret to a perfect spiral was to throw it with your eyes closed. I mean wow, the offense was beyond horrendous in the first 30 minutes. Five turnovers, 21 total yards, and a 19 point deficit that was only 19 points because the defense played admirably. To be honest, I was ready to throw in the towel on the whole season at halftime. After Wisconsin went up 16-0 and Threet threw another interception,
I
fell asleep
. When I woke up at the half, I didn't want to move. This was embarassing. The Wolverines were staring a 1-3 record right in the face and I only kept the TV on because after so many years of watching, I've learned that Michigan football is its own type of masochism.
Dating back to 1927, when the first game of football was played at Michigan Stadium, the Wolverines had never come back from more than 17 points down while playing at home. 81 freakin' years. Then came Michigan's first real offensive drive and Threet's long pass on 3rd down to Kevin Koger for a score. 19-7. Big deal. But wait, then Brandon Minor blasted through a Grand Canyon sized hole and capped off an 85-yard drive with another score. 19-14. Huh? Then, before I could blink, Wisconsin threw a wobbling pass that was tipped up and returned for a touchdown on the very next play. 20-19. And you know the rest...McGuffs takes it in for an extra cushion and the Michigan defense
bends
to the breaking point before boomeranging Wisconsin back to the loser's circle. Season salvaged.
2-2. Not 1-3, but 2-2. Doesn't seem like much of a difference, does it? They're still unranked. They still have a bumbling offense with 11 turnovers in the past two games. There are still questions in the secondary and on the offensive line. So, what's different? Confidence, pure and simple. Yeah, they lost to unranked Utah and girl-quarterbacked Notre Dame but they completed the biggest comeback in Michigan Stadium history and knocked off a top ten team only four games into a season with a new system and new personnel. Sounds like salvation to me.
(Next week I'll be back with a preview of the Michigan-Illinois game and hopefully another installment of column writing...or Camolumn for short).