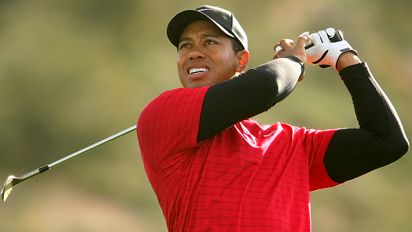 The image of perfection? I think so. Tiger continued his jaw-dropping run at the PGA Tour record books today in defeating Stewart Cink 8 and 7 in the 36-hole championship match of the Accenture Match Play Championship. That stands as the largest margin of victory in a final match in the event's history, not to mention Cink had to make a long eagle putt just to avoid losing 9 and 8. Tiger has now won four straight PGA Tour events and eight of his last nine events worldwide. Unbelievable. He never takes a round off and pulls off some of the most amazing shots I've ever seen, even when he's under massive amounts of
pressure
. I know analysts and experts get carried away in picking Tiger to win every tournament, but I seriously think that if anyone is ever going to win the Grand Slam (all four majors in one year), this would be the year. Here's the breakdown and reasons why he could win each:
The Masters (April)
: He's donned the green jacket four times in his career and since he let last year's tournament slip away to Zach Johnson, he'll have something to prove and undoubtedly win his fifth Masters.
The U.S. Open at Torrey Pines (June)
: Tiger has won the Buick Invitational, which is played at Torrey Pines each year, SIX times: in 1999, 2003, 2005, 2006, 2007, and earlier this January in 2008. Might as well rename the course Tiger Pines.
The British Open at Royal Birkdale (July)
: Tiger came in 2nd and missed out on a playoff by one stroke the last time the Open was held at Royal Birkdale...in 1998. Do you have any idea how much better Tiger is
right now
than he was back in 1998? The answer is a lot.
The PGA Championship at Oakland Hills (August)
: As an amateur in 1996, Tiger briefly held the lead at the U.S. Open at Oakland Hills. If he could get a lead as an amateur on this course when it was in U.S. Open condition, I can't imagine anything stopping him from hoisting the Wanamaker trophy for a third consecutive season.
He is by far the most dominant player in any sport of this generation and perhaps in the history of sports. On a side note, does anyone in the world look better in red than he does on Sundays?
Elisha Cuthbert
seems to be his only competition.
As much as I love watching and writing about the wonderful game of golf, I must move on to other sports news because snow is still pounding the Northeast and ruining my hopes of golfing as soon as possible.
In the NBA, the Pistons beat the Suns this afternoon by a whopping 30 points to move their record to 41-15, only two games behind the struggling Celtics. This Pistons team seems hungrier than previous ones and could be even better than the title team of 2004. I think they are playing some great basketball right now and as long as they stay hungry and inspired come playoff time, there's not a team in the league that will beat them in a seven-game series.
In the NHL, the Wings continue to struggle, having lost eight of their past nine contests. I don't ever like to see my team lose but this losing streak might actually be a blessing in disguise. It's good for them to get the majority of their injuries out of the way now because it certainly cost them in the playoffs last year. Losing Lidstrom, Rafalski, Kronwall and Chelios on the blueline
and
their starting goalie in Hasek (not to mention losing Dan Cleary for 6-8 weeks with a broken jaw) certainly makes the coming months more difficult but it's better to have those bumps now than in April or May.
One last thing worth mentioning regarding the NHL is the fast-approaching trade deadline on Tuesday. I really want to see the Red Wings make a move and pick up either some grit or another scorer, namely Fedorov, Sundin, or Hossa, but I would settle for any kind of good trade that would help them for the playoffs. If GM Ken Holland does decide to stay quiet at the deadline though, the one thing I would hope for is that neither the Ducks nor the Sharks improve and sign a high-caliber player. They're hard enough to beat as it is.
The NFL Combine took place this week in Indianapolis and four Michigan players took part in the drills. Mike Hart ran a slow forty yard dash time (4.67) and his stock is apparently falling but he shouldn't be looked at for speed and wasn't likely to go very high in the draft anyway. His work ethic and ball control skills speak for themselves and any team that takes him should be lucky to get such a great player and person.
Mario Manningham's stock is decreasing as well, though it's in more of a free-fall than Hart's. Manningham has been looked at mostly because of his speed and deep-threat ability but a 4.59 forty yard dash time has forced teams to take a second look at him and that might move him out of the first round.
Chad Henne remains the 3rd best quarterback in most people's minds but as far as I'm concerned, he is far superior to Matt Ryan and Brian Brohm, the two supposedly ahead of him. You could assume I'm biased or look at the facts that Henne has great clutch abilities, an absolute rocket arm, great mechanics, and though many scouts have talked about him being "injury prone," they seem to forget his toughness, shown best when he played through a dislocated shoulder against Illinois this year (the pain was so much that he took only shotgun snaps because if he went under center, his shoulder would pop out). Regardless of how I feel about him, he's likely a 2nd round pick no matter what.
Jake Long, on the other hand, has impressed all sorts of players and coaches at the combine. He was already a top five pick but is showing the scouts that he might be worth the #1 overall choice. He's an absolute beast, out benching everyone at the combine with 37 reps of 225 lbs. Oh, and in his free time he also played a nice little
prank
on Vernon Gholston, a defensive lineman from Ohio State. Great idea and flawless execution.
That's all for now, hope you enjoy the last few days of February. The best month of the year is just around the corner!