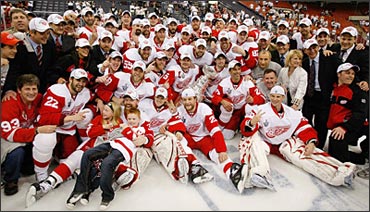 Before I get started on an in-depth look at the upcoming NHL season, which starts in mere hours with the two games overseas in Prague and Stockholm, I just thought I'd give you a little reminder of how last season ended with that lovely picture up above. Pretty nice wasn't it? Four cups in eleven years. It has a nice ring to it. So does five in twelve.
The Red Wings fly into this season with a heavy weight on their shoulders: everyone expects them to win. And I mean everyone. Experts, fans, opposing fans even though they probably won't admit it. I mean really, after such a dominating performance from start to finish last year, how could anyone expect anything less after adding the best free agent on the market, Marian Hossa, and boosting their only supposed weakness (goaltending) with the addition of Ty Conklin. So, don't think I'm alone in thinking that the Wings will win it all again. They're the safe pick. Kinda like the '07 Patriots over the Giants in the Super Bowl. Makes complete logical sense to pick the absolute best team on paper and possibly the best team assembled in decades (yup, read it and weep 80's Oilers fans). But we all know that what makes sense and looks to be an easy decision doesn't always turn out that way. So, let's not get ahead of ourselves. And on that note, here's a look at what I think will unfold in the 2008-09 NHL season.
I see the Red Wings having their way with the regular season and winning another President's Trophy without anyone really in reach to make it a close contest. I know that winning the Stanley Cup is extremely hard, regardless of how many great players you have, but in the regular season, the best team on paper

usually

ends up at the top.
With that in mind, my Western Conference playoff teams are as follows (division winners automatically get one of the top three spots, so I don't actually think that the Wild are better than some of the other teams but they will win the Northwest division):
Detroit Red Wings
Dallas Stars
Minnesota Wild
San Jose Sharks
Chicago Blackhawks
Anaheim Ducks
Calgary Flames
Edmonton Oilers
Annnd then of course I have to give you my Eastern Conference pecking order:
Pittsburgh Penguins
Washington Capitals
Montreal Canadiens
Philadelphia Flyers
Boston Bruins
New York Rangers
New Jersey Devils
Tampa Bay Lightning
There's a lot to digest in those lists, so let's start with my explanations of the West. I think the Stars showed how good they are in the playoffs last year and with a full year of Brad Richards (a free agent they brought in at the deadline last spring), they should

barely

win their division over San Jose and Anaheim. I think the Blackhawks are going to be very good with all of their new additions and so I have them finishing fifth. I picked Calgary and Edmonton to finish off the playoff spots but they will surely be fighting with Nashville, Vancouver, and maybe even Phoenix for a chance to play either Dallas or Detroit. Personally, I'd like to see the Avalanche make it into the playoffs so I can watch and enjoy another slaughter, courtesy of the Wings, just like last year's playoffs but I would just be kidding myself. Colorado simply isn't any good this year. They won't even sniff

the playoffs and will finish last in their division.
As for the Eastern Conference, there's plenty to look at there too. You might notice I left Ottawa, Buffalo, and Carolina out of the playoff mix when there are plenty of people who would disagree. I definitely think those three teams will be fighting with Tampa Bay to get that last spot but with the ridiculous amount of positive changes in the offseason, I think that the Lightning will snag the eighth spot and be granted the opportunity to lose to Pittsburgh in the playoffs. What fun. Because despite losing plenty of good players, the Penguins picked up a couple good forwards (Ruslan Fedotenko and Miroslav Satan) that will help Crosby and Malkin out immensely. Expect Pittsburgh to reign at the top of the East for years to come. Crosby's just so freakin' good and in case you didn't know, he

just

turned 21 in August. Can you imagine how good he'll be when he's in his late twenties? Unbelievable. Following the Pens, I have the Capitals edging out Montreal for the 2nd seed, and the Flyers, Bruins, Rangers, and Devils in a dogfight for the remaining spots.
Since I've never tried to do it before and I'm still trying to kill some time before the Rangers-Lightning game in Prague kicks off to start the season, I might as well tell you how I see the playoffs working out as I picked them as well as the winners of the NHL awards.
Hart Trophy (best player)
: Sidney Crosby. After an injury-plagued season last year, I think Crosby will restore his dominance on the league and win his 2nd Hart Trophy.
Vezina Trophy (best goaltender):
Marty Turco. Marty is such a great goalie (and Michigan boy) and never gets enough credit for it. This is a bit of a dark horse pick with the usual cast and safe choices being Martin Brodeur, Roberto Luongo, or Miika Kiprusoff but I think Turco is set up to have a stellar season.
Norris Trophy (best defenseman):
Nicklas Lidstrom. Do they give it to anyone else? Liddy might as well just change his name to Norris Nicklas. I do think Dion Phaneuf, who finished 2nd in the Norris voting last year, will make it a close one this year but the league almost owes Lidstrom the award after they jobbed him on his first three nominations.
Calder Trophy (best rookie):
Steve Stamkos. The top pick in last year's draft will impress everyone in Tampa Bay and is a star in the making.
Lady Byng Trophy (most gentlemanly player):
Pavel Datsyuk. What sounds like a pansy award in a tough, gritty sport like hockey, the Lady Byng is given to the player who has the most sportsmanship combined with a high standard of playing ability. Datsyuk has won three consecutive Lady Byngs. Look for him to make it four in a row.
Selke Trophy (best defensive forward):
Henrik Zetterberg. Z lost out on last year's Selke to Datsyuk but I think he'll win it this year just because the league will want to keep it even. But it will come down to Zetterberg and Datsyuk, almost undoubtedly.
Jack Adams Award (best coach):
Barry Melrose. If the Mullet can actually bring the Lightning out of last place in the league and turn them into a playoff team, how could he not be deserving of this award?
As for my playoff predictions, I have Detroit over San Jose in the West Finals and Pittsburgh over Philadelphia in the East Finals. Then Detroit breaks Crosby's heart again in six games. The Red Wings' forward lines are simply ridiculous (Datsyuk/Holmstrom/Hossa and Zetterberg/Franzen/Hudler for example) not to mention they have Lidstrom, Rafalski, Kronwall, and Stuart as their top four defensemen. I can't see the season ending without them winning it all.
So knock out some teeth, grab a cold one, and throw on the ol' sweater of your favorite team because it's hockey season-eh, and its not just the Canadians who should be excited!