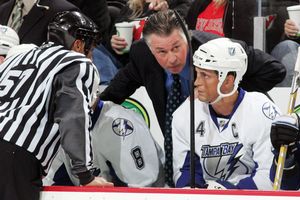 Poor, poor Barry Melrose. The Magnificent Mullet was fired on Friday afternoon by the Tampa Bay Lightning after only 16 games as their head coach. The move was wrong, the move was unjustified, and Barry deserves better.
Most people know Barry from his work on ESPN as the
only
lead hockey analyst on Sportscenter. He is funny, charismatic, and one of the most enjoyable people to watch on the show. His hockey knowledge stretches far and wide and stems from his short stints as a player in the NHL, for the Maple Leafs and Red Wings. He is quite literally a guru of the sport and cares about every aspect of the game.
So, when he appeared on ESPN's popular show, Pardon the Interruption (PTI), in early June and said he would entertain any coaching offers, I was excited for him. A short while later, the Tampa Bay Lightning hired Barry and let him bring in a whole new coaching staff.
Tampa Bay was the worst team in the NHL last season, so everything appeared to be on its way up in the organization. They hired Melrose. They got the #1 pick in the draft and chose Steven Stamkos (a star in the making). They had a ridiculous offseason, picking up Olaf Kolzig, Ryan Malone, Adam Hall, Andrej Meszaros, Radim Vrbata, Matt Pettinger, Vaclav Prospal, and Mark Recchi. The Lightning roster went through more changes than a house on Extreme Home Makeover.
But as the season began, the results didn't follow suit. Tampa Bay was 5-7-4 through those 16 Mullet-coached games and sat in 12th place in the Eastern Conference (out of 15 teams). Keep in mind though that 5-7-4 means the team has lost four games by an overtime goal or shootout loss, so they could just as easily be 9-7-0 if a few bounces go their way. But that's not my point.
I don't care if the team is 0-16 and has lost every game by ten goals. If you hire a coach in the offseason, he deserves
at least
one full year to let his system work, with the exception of any legal scandals. Barry wasn't doing a bad job with these guys. Like he said in an interview on the NHL Network yesterday, if the Bolts' two star forwards, Vincent Lecavalier and Martin St. Louis, have a normal start to the season, this team might be off to a great start instead of a mediocre one. (In 2006-07, Lecavalier had 108 points, St. Louis had 102. In 2007-08, Lecavalier had 92 points, St. Louis had 83. The two have only 23 points combined so far this season).
And Barry's not a bad coach. He didn't get fired for a lack of coaching ability. He's got good credentials. He even led the 1993 Los Angeles
Gretzkys
Kings to the Stanley Cup Finals before losing to the Montreal Canadiens, thanks to
complete and total asshole
goalie Patrick Roy.
So maybe he's past his time? The game
has
changed a lot since then.
Nope. Erroneous. Melrose preaches passion. He wants fiery guys and he wants to play defense. His team did just that; they just didn't score enough. Tampa Bay is dead-last in the NHL in goals per game, with only 2.06. I don't care if you have Terry Sawchuk in his prime as your goaltender, 2.06 goals per game just isn't going to get it done.
And sure, some of the blame for their offensive futility falls on Barry. But not all of it. And surely not enough of it to warrant his firing when they're only 16 games into an 82-game season.
Barry was fired because some of the Lightning players talked to upper management and told them that they didn't like what was happening, that they weren't being properly motivated.
Can Barry motivate today's NHL player? I don't know the answer to that question. What I do know, however, it that is it not right to have a group of players undermine their coach and it's even worse to see the general manager and team officials succumb to those complaints. The whole situation screams of injustice.
But maybe I'm only pissed because I like Melrose. If this happened to
Mike Milbury
or
Marc Crawford
, I might actually smile a little. Maybe I don't have all my facts straight or don't know everything behind the story. It's certainly a possibility, with all that gets lost in today's media.
But the fact is that Barry Melrose, one of the classiest guys hockey has seen in my lifetime, was fired. And when a coach is inexplicitly fired this early into his first season, that's saying something. That doesn't mean management thinks it made a mistake or that he was the wrong guy for the job, that means management didn't even want to give the guy a chance.
So, I'm sorry Barry. You're still a great guy with more integrity in your hair than all the Lightning GMs have in their whole bodies. I missed seeing you on TV anyway. I hope to see you back on ESPN soon.