Game #2:

Red Wings

3,

Blackhawks

2
One
: Second-line scoring. Valtteri Filppula had two goals and Goon Bertuzzi had another as the Wings flew past the Hawks to ruin their opening night and their Stanley Cup banner ceremony. Filppula needs to step up and have a productive, healthy year to keep the Wings in it until the end and a game like this is a good start. His winner was a fluky one, but I'll take it. Nice way to jump on Chicago early in the season and grab two quick wins on opening weekend.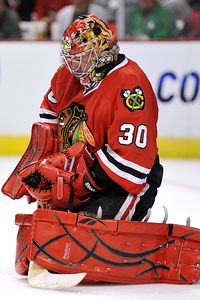 Two
: Oh, Marty Turco. I loved you so much as the
championship-winning goalie for the Michigan Wolverines
back in their late-90s glory days and I was able to not hate you on the Stars, but this new deal you've got with the Hawks has soured me. Well, in fact it's made me very happy in that you can't stop any piece of black rubber sent from the stick of a Red Wings player (Turco is something like 1-2,000 against the Wings all-time), but I'm conflicted in that it makes me a teensy bit sad to see you suffer. But Wings over Wolverines, so I must root for your demise. Thank you for signing with the Blackhawks. The whole Wings faithful is forever grateful.
Three
: Bittersweet Chicagoans. I love that the Wings ruined their home opener and the banner raising ceremony with a hard-fought victory. Enjoy that banner while you can, Hawks fans. You're not getting another this year. I'm not going to say it'll be another 49 years, but you have nothing close to what it takes to repeat in this league. Here starts your slow painful ride back to second place in the Central, where you belong.
Next up
: Red Wings vs. Avalanche, Oct. 12 at 7 p.m. Back to the old rivalry. Another good one on tap and hopefully the first game of the season that I'll get to watch live. Let's get Jimmy another shutout! Yes, I realize I just jinxed it and the Avs will probably score a minute in, but whatever. Go Wings.