Another week, another blog. The past five days have had their ups and downs in the sports world, so I'll run through the highlights before I delve into my five least favorite hockey players of all-time (which I'm writing in spirit of the intensity that the Stanley Cup Playoffs bring to sports each year).
Boston College *shudder* won the National Championship for men's hockey, coming out on top in the Frozen Four. The two games last week were entirely opposite of what I predicted, as BC somehow manhandled North Dakota 6-1 and Notre Dame played an incredibly good game to stifle Michigan 5-4, in overtime. I can't deny that I was completely and utterly devastated by the Wolverines' loss, as I stared at nothing and suppressed the urge to break everything in sight for hours after the game ended. Michigan played an absolutely terrible game even though they managed to get into overtime; they played completely lazy hockey for the majority of the game and Billy Sauer turned out to be the biggest disappointment of the tournament, giving up three soft goals in the opening period. I could write so much more about the loss and complain about the multitude of phantom offsides calls from referees, but it's just too depressing for me to write about. They were so

close

to another National Title...ugh...makes me sick to my stomach.

In golf news, Trevor Immelman won the Masters in a wire-to-wire performance, as he tied for the lead after the first round and secured the win on Sunday. Tiger came in a distant second, three shots behind, though he never put together a good enough run to pressure Immelman. You could argue that if Tiger had dropped a couple of the putts that he missed on the back nine, Immelman might have succumbed to his nerves (see Immelman's tee shot on #16), but you have to give him credit for playing some great golf over a four day period to win the green jacket.
The NHL Playoffs have provided a few surprises, though most of the match-ups have panned out the way I figured. In the East, Boston has played well against Montreal, but the Canadiens are finding ways to win and are up three games to one. Pittsburgh has almost completely put away the Senators, up 3-0, and have easily looked like the most impressive team in the playoffs thus far. The Flyers have played well and stopped Alexander Ovechkin to their best ability, up 2-1, though it has been a close series. The Rangers have made my New Jersey choice look silly, though the lucky bounce that gave the Devils a game three victory may just turn the series around. In the West, Detroit has completely outplayed Nashville, though a lucky series of events gave the Predators a game three victory and kept them from falling into an 0-3 hole. San Jose has looked like the Sharks of the past couple years in the playoffs...and that's not good, as they have played poorly and are tied 2-2 in their series with the Flames. Minnesota fought through three overtime games and gained the series advantage, though the Avalanche have fought back to tie the series at two games apiece. The Ducks have looked interestingly weak in their series, losing their two home games to the Stars, but they played well in tonight's game to narrow the series margin to 2-1.
And now to the meat and potatoes of the post...my five most hated hockey players of all-time. I would give my top five favorites, but they are all Red Wings and the descriptions would be kind of redundant (and picking only five out of Steve Yzerman, Nicklas Lidstrom, Brendan Shanahan, Kris Draper, Kirk Maltby, Darren McCarty, Sergei Fedorov, Pavel Datsyuk and Henrik Zetterberg would be hard to do anyway). So instead, here are the five players that make my blood boil whenever their name is uttered, in descending order.
5. Scott Stevens - The longtime captain of the New Jersey Devils was known for his "clean" hits that caused many
concussions
. His hits were often well-timed and arguably legal, but the fact that he always seemed to go after star players and use his elbows and arms to exacerbate the hits made them complete cheap shots. His hit on Eric Lindros basically ended the phenom's career...as Lindros never recovered and was mired by concussions for the rest of his life in hockey. Stevens is not just a goon though, he's a celebrated goon, which is the worst of its kind.
4. Chris Pronger - The second defenseman to make it into my top five least favorites, Pronger has caused many problems for the Red Wings and his dirty hits have merited numerous
suspensions
from the NHL, including an eight gamer this year for
stomping on a guy with his skate
. Teams play 25 games at MOST in the postseason and he was suspended
twice
in the 2007 playoffs
! Good role model huh? And the sad thing is, he used to be. He was a doe-eyed, young kid when he came into the league and won over St. Louis Blues fans' hearts back in 1993, but Darth Pronger has switched over to the dark side in the past decade.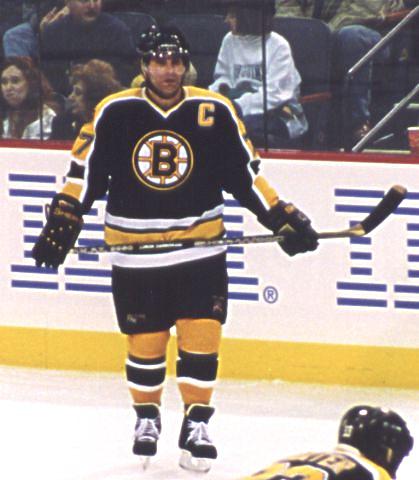 3. Raymond Bourque - Now, I know Boston fans and hockey fans everywhere will see this as an odd choice, as Bourque was a model citizen and the leader of the Bruins for so many years, but I have two specific reasons for hating him. The first is that he made a commitment five or so years ago to play a round of golf every summer with a lucky winner from the Mount Washington Valley area (my hometown). After doing it the first year, he flaked every year afterwards and sent a teammate instead. What a cop out. More importantly though, I hate Ray Bourque for bucking tradition and deserting his team. He left the Bruins after
20
years to win a championship with the Colorado Avalanche. You think a real leader, like Steve Yzerman, would have
ever
done that? Not a chance. You stick it out with the team you've committed yourself to for your whole career and you either win with them, or retire without a championship. Just ask Dan Marino.
2. Claude Lemieux - Let me make this clear: both of these final two individuals are unbelievably worse than all of the other hated players combined. This "man" to the left here...is quite possibly the most evil player to ever play the game. The
video
of his cheap shot on Kris Draper will forever resonate in my mind. The hit may look like nothing compared to the checks that Scott Stevens was dishing out in the linked video above, but this particular hit sent Draper into the edge of the boards and broke his jaw, cheekbone, eyesocket, nose,
and
gave him a concussion. The
video
of Lemieux getting his ass kicked by Darren McCarty in retaliation to the Draper hit a year after it happened is one of my favorite moments in hockey and I'm still giddy knowing that Lemieux finally got what he deserved. His pansy turtle move to avoid McCarty's punches shows who he really is: a complete and utter coward. I have nothing but contempt for him.
1. Patrick Roy - Ugh. Even typing his name makes me want to punch something or vomit. He is the arrogant, whiny goaltender who played for the Montreal Canadiens and the Colorado Avalanche and is widely regarded as the best goaltender ever. There is no greater falsehood that than the claim that he is the best goalie ever. He may have the statistics on his side, but he is the most unimpressive human being the world of hockey has ever known and deserves no respect whatsoever. His role on the Colorado Avalanche's championship teams was the main reason why I hated him before he retired, but the way that he carried himself off the ice was also a key factor. Recently, both Roy and his son were suspended for their
altercation
in a Quebec Major Junior League playoff game (Roy is now the coach of the Quebec Remparts and his son is the backup goaltender). Watching what unfolded tells me that Roy has passed down every bit of his character to his son and has completely failed as a father. The simple fact that Roy procreated is an insult to the world. He is, by a slim margin over Lemieux, the most hated person in hockey in my mind.
Well there you are...nothing like a good rant to get the blood boiling. I hope you enjoyed it and are as disgusted with these human beings as I am. I do take some solace in the fact that four of them are no longer playing, Pronger being the exception. Though from the Roy incident I hope you can see how they are still negatively affecting the world today.
Anyway, that's all I have for now...I'll be back next week with an update on the Stanley Cup Playoffs and a preview of the second round match-ups once the first round is over.